KWB Energiesysteme, with its headquarters in the Styrian town St. Margarethen an der Raab, has evolved from a pioneer in modern wood-based heating systems to a leading provider of comprehensive solutions for heat and electricity from renewable energies. The core business of the company, which was founded in 1994, is the manufacturing of clean and efficient heating systems in premium quality.
With its broad product portfolio – from solar and photovoltaic systems to storage systems and all the way to an intelligent energy management system – KWB opens for its customers the path to energy independence in their own four walls. With its own service and distribution network in Austria, Germany, France and Italy and local distribution partners elsewhere, KWB now boasts a presence on all continents and actively contributes to the creation of a green energy future.
From the initial vision to technology leader for alternative heating systems 
KWB's initial vision was to revolutionise the use of heat and electricity in our homes. Six idealists and visionaries wanted to change the future of energy. They had clear goals. Prof. August Raggam, the founder of the company, had a clear credo: "Only a full transition from fossil and nuclear-based energies to 100 percent renewable energy will ensure a future for our planet and consequently for our children." In the spring of 1994, after 14 years of "tinkering", building, testing and constructing, the company "KWB – Kraft und Wärme aus Biomasse GmbH" was founded in Graz. In 1997, the company expanded and moved to the St. Margarethen an der Raab located 30 km from the original location in Graz.
KWB combines ecological heating with top comfort and has been a successful product provider and technology pioneer which stands for the core values "premium quality, durability and sustainability". Many KWB inventions and patents embody the innovative spirit of the company: for example the "7-chamber cellular wheel sluice" which ensures maximum security, the fully automatic heat exchanger and burner plate cleaning, as well as the cleanest combustion thanks to cleanEfficiency 2.0 technology, the robust KWB Crawler Burner, KWB's modular and easily transportable system, and also the intelligent energy management system KWB ComfortEnergy.
In the aughts, KWB opened its first foreign branch in the German town of Mertingen. Soon after, subsidiaries followed in Italy, Slovenia and France. Then the first – and at that time largest – European private innovation centre for biomass heating systems was built. 
PDP Holding GmbH led by Peter Daniell Porsche is KWB's majority shareholder since the beginning of September 2016. In 2021, we doubled our production capacity by erecting a further – our fifth – production facility. The expansion was completed in 2022 with the construction of a new logistics facility. On its journey from a pure boiler manufacturer to a system solution provider, the company changed its official name to "KWB Energiesysteme GmbH" in 2022.
KWB Energiesysteme GmbH currently employs around 400 people group-wide. Production and central management are located at the company headquarters in the Austrian town of St. Margarethen an der Raab.
KWB drives the energy transition!
KWB drives the energy transition by expanding production capacities, R&D activities and the introduction of an intelligent energy management system. With the addition of photovoltaic systems, inverters and storage systems to the portfolio, KWB enables its customers to become energy-independent in their own homes.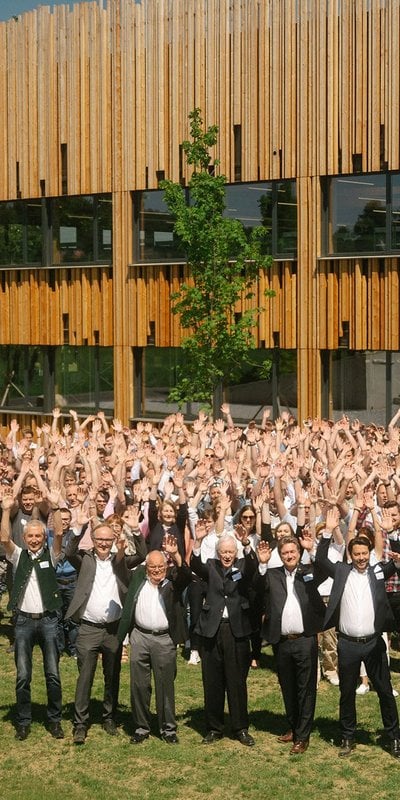 The path to energy independence 
We all have the desire to control our own energy supply. Stored heat and self-produced electricity ensure a feeling of satisfaction and security. KWB makes this possible thanks to our expanded product portfolio – and this is our contribution to the energy transition!
Our goal: a future in which homes are supplied with renewable energy, where digitalised comprehensive solutions ensure comfort and efficiency, and where people enjoy the satisfaction of greatest possible energy independence.
Revolutionary & sustainable
For 25 years, KWB's main feature has been its pioneering spirit in alternative heating based on technical innovations. Above all, KWB scores points with short delivery paths and regional value creation with its headquarters in Austria. On top of that, the company manufactures heating systems of the highest quality, which are particularly durable as a result. KWB brings the energy transition to your home.
Your choice: KWB