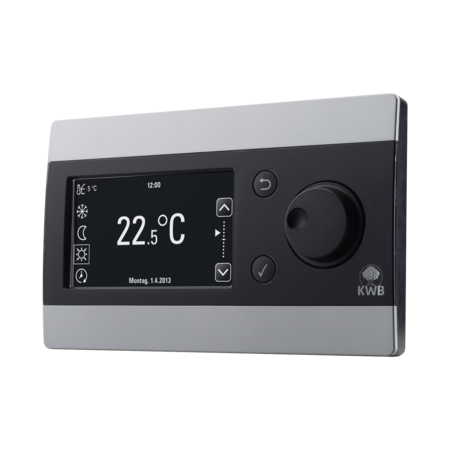 KWB Comfort 4
Easy and flexible operation
Regulate heating - Boiler programmer
Quality that meets the industrial standard
All the devices and the manufacuring oft he KWB Comfort 4 meet the industrial standard. Its reliability can therefore be guaranteed.
Intelligent operation
KWB Comfort 4 makes for easy and efficient heating. Its practical fill level sensor will always display how much you need to add to efficiently operate your system.
The request ensures that your automatically ignites as soon as the heating system requests heat. The system thus consistently maintains the room and warm water temperatures that you specified in the system.
Remote control
The KWB Comfort 4 control system comes with the KWB Comfort Online system which enables you control your heating remotely via smartphone, tablet or PC.
Dual control thanks to the proven dial and touchscreen display
Modular setup
Can be combined with the KWB Comfort Online platform wich lets you control your heating remotely
Everything from one source
Purchase your entire heating system from KWB and certified partners in your region
Heating recommendations and advice concerning subsidies
Planning of your heating solution
Installation and commissioning of your heating system
Servicing and maintenance
Comprehensive KWB factory customer service
Inquire now