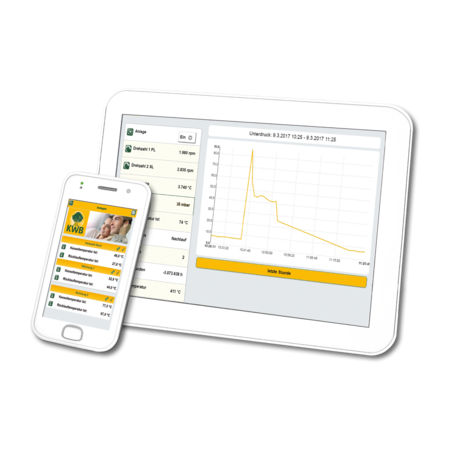 KWB Comfort Online- Remote control
Simple and comfortable remote control
Heating system control
The KWB Comfort Online platform enables you to access, monitor, control and maintain your KWB heating system remotely. This can be done via an internet browser from every internet-capable device, such as a smartphone, tablet or laptop/PC. It is not necessary to install an app for this purpose. The visualization and control of the heating system remotely is free of charge and possible from anywhere in the world.
Heating control and monitoring from anywhere at any time
Your KWB Comfort Online guarantees even more convenience because you can operate your KWB boiler from anywhere. On your way back from a vacation, you can switch on your boiler while on your way home. And when you arrive, your home is already warm and cosy. In addition, you can easily check the operating status of your heating system even if you happen to be away from home. Specific data regarding your KWB boiler, buffer storage tank and DHWC can be called up 24/7. You can make the following adjustments online at any time:
Switch heating on and off
Change heating times
Change heating programmes (e.g.: automatic operation, convenient operation, frost protection operation, party operation)
Receive alarms and warning messages (e.g.: fill level of the ash container, fill level of the pellet storage)
Remote maintenance from your mobile phone
Your KWB Comfort Online also ensures more operational reliability. You will receive a text message (SMS) or e-mail if the status of your KWB heating changes. You can immediately remedy small faults remotely. If desired, you can also provide access to your heating system to a third party, e.g. your heating installer or , who will then take care of your boiler. As the owner of a KWB heating system, you will still always retain control over your data. KWB has secured the entire communication between boiler and KWB Comfort Online platform using encryption technologies that you already know from your online banking (Captcha, TAN and SSL).
Analysis and optimising of the heating system (groups)
As a professional user (e.g. contractor, craftsman, housing developer) you can visualize, analyse and manage entire groups of systems using KWB Comfort Online. Long-term analyses and detailed evaluations and comparisons are possible with the comprehensive functions and data packages which are optionally available in the platform's online shop.
Technical requirements
To be able to use KWB Comfort Online, you only need to register on the www.comfort-online.com portal and connect the heating system to the internet using a LAN cable. You can use Comfort Online both with heating systems that are equipped with the KWB Comfort 3 control as well as KWB Comfort 4 control.
Retrofitting of existing systems
To retrofit existing systems with Comfort 4 control you will need to carry out a software update at the boiler control unit. Comfort 3 controls will need to be equipped with a suitable network card in addition to the software update. Systems that were delivered before 2008 will additionally need to be equipped with a new boiler control unit. Regardless of whether you use a smartphone, tablet or laptop/PC, KWB Comfort Online immediately recognises the type of browser-enabled operating unit and automatically adjusts the respective user interface; individual display options are freely selectable. All KWB pellet, wood chip and log wood heating systems as of manufacturing year 2008 can be retrofitted with KWB Comfort Online.
Individual access control when it comes to settings and troubleshooting
Modular expandability
Plug & play with new systems, however retrofittable
Optional remote monitoring via additional function and data packages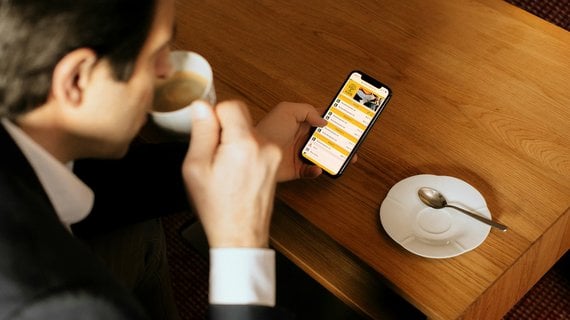 This is how it works
It is not necessary to install an app for this purpose. Your KWB Comfort Online is easily accessible via www.comfort-online.com.